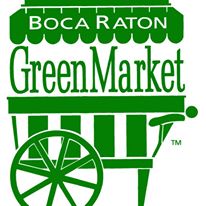 GRAB YOUR SHOPPING BAGS AND HEAD ON OVER TO THE BOCA RATON GREENMARKET!
BOCA'S GREENMARKET HAS CONTINUALLY BEEN DEDICATED TO LOCAL FOOD PRODUCTION AND CONSUMPTION…. PRODUCE THAT TRAVELS FROM FARM DIRECT TO THE DINING TABLE……AND THROUGH THE PROCESS SUPPORTING THE FLORIDA AGRICULTURAL INDUSTRY AND THE ECONOMY OF OUR SOUTH FLORIDA AREA. EACH SATURDAY, FRESH LOCALLY-GROWN FRUITS AND VEGETABLES AS THEY BECOME

AVAILABLE IN THEIR INDIVIDUAL GROWING SEASONS—ALONG WITH FRESH HERBS, SOAPS & LOTIONS, JUICES, POTTED ORCHIDS, OCEAN SHELLS, FRESH CUT FLOWERS, ASSORTED VARIETY OF PLANTS, FRESH BAKED GOODS, PREPARED FOODS, OILS & VINEGARS, GOURMET FOODS, HYDROPONIC AND ORGANIC FOODS, FRESH FISH AND SEAFOOD, FRESH PASTA, DOGGIE TREATS —ARE AVAILABLE FOR PURCHASE. SEVERAL OF THE VENDORS HAVE PARTICIPATED SINCE THE MARKET BEGAN IN 1996, WITH A FEW NEW VENDORS JOINING EACH YEAR. COMMUNITY SERVICE ORGANIZATIONS PARTICIPATE FROM TIME TO TIME TO SHARE INFORMATION OR TO PROMOTE A SPECIAL PROJECT.
THE MARKET HAS BLOSSOMED INTO A SATURDAY MORNING COMMUNITY MEETING PLACE TO HAVE A FRESH CUP OF COFFEE, A BITE TO EAT, LISTEN TO SOME MUSIC, PICK UP SOME LOCAL PRODUCE, PLANTS, GRAB A GIFT FOR SOMEONE OR RESTOCK HANDMADE SOAPS OR CANDLES. IT'S JUST A 'FUN' PLACE TO BE ON SATURDAY MORNING IN A RELAXED ATMOSPHERE…. A PLACE FOR THE ENTIRE FAMILY, INCLUDING THE FAMILY PUP, TO ENJOY A FEW HOURS IN THE OUT-OF-DOORS.
LOCATION & HOURS
THE GREENMARKET IS HELD EVERY SATURDAY, 8AM TO 1PM, BEGINNING OCTOBER 28 THROUGH MAY 12, 2018 IN ROYAL PALM PLACE IN THE MONUMENT PIAZZA PARKING AREA LOCATED AT THE INTERSECTION OF S FEDERAL HIGHWAY AND SE MIZNER BLVD. PLENTY OF PARKING IS AVAILABLE ADJACENT TO THE GREENMARKET VENDOR SITE.
CLICK HERE FOR MORE INFORMATION